4 min read | 950 words | 243 views | 0 comments
For a while now, researchers and psychologists have been noting the marked increase in loneliness and depression throughout the last few decades. While some have been quick to pin blame for this phenomenon on the increase in electronic communications and the decline of physical socialization, companies like eBay are helping to reverse that trend.
"Today, people look to sites like eBay and Amazon for their shopping needs," Jamie Iannone, newly appointed CEO of eBay announced in a press release. "The ease of buying and selling on these platforms is simply unparalleled and unprecedented. What we're seeing today in society is that everything has become very 'transactional'. People want an easy way to get what they want, and a seamless medium to do that. We see this in the job market, now, with third-party platforms seamlessly matching employers with job applicants using machine learning and artificial intelligence. And we've seen that in the past with many dating sites as well, so that's why we've decided to take that to the next level here at eBay."
Users on eBay will notice a new tab on the homepage that has recently rolled out, offering customers "the greatest selection in relationships on earth".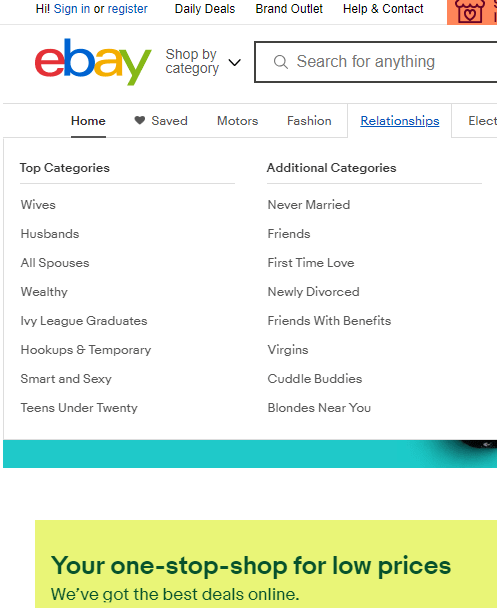 eBay Homepage, showcasing the new Relationships offerings
Iannone said that customers had been asking for these capabilities for some time and that eBay is simply meeting a growing market demand. "Everything is transactional these days. It used to be that people would work at one company forty, fifty years — that's no longer the case. People switch jobs a lot, and people switch partners a lot. Divorce rates are way up today, the family unit is no longer vogue. People want the ability to choose their relationships with the click of a button, and now they can be choosier than ever before."
Although eBay's customer response has been extremely enthusiastic, some expressed concerns about the possibility of fake profiles, such as ugly people using pictures of attractive people to command ramped up bidding or a higher "Buy It Now" price. Iannone declined to disclose particular details but said that "the integrity of our platform is paramount to us at eBay, and it's something we take very seriously. We will not tolerate fraud, and if buyers purchase an attractive spouse or partner but do not receive one, they will be due a full refund."
eBay's new addition has been heralded almost universally amongst both its buyers and sellers. One seller, who agreed to speak with us anonymously, said that she was tired of picking up "low level lackeys" in nightclubs and was pleased with the ability to command a higher asking price. "Since the highest bid is the one that counts, I can bypass all these poor dudes with no worth and go straight to the top. I was purchased last week by this hot executive and couldn't be happier. Our wedding is next week. This is what it's all about."
Unlike the rest of the site, eBay Relationships requires ongoing payments after the initial purchase, to allow for situations like separation and divorce. After paying the "Buy It Now" or winning bid price, the buyer receives the seller's contact information. Until their relationship is over, the buyer also pays the seller an ongoing monthly fee, which is a fraction of the initial purchase price. Although Iannone confirmed that buyers who are defrauded will be refunded, there are no refunds after a transaction has taken place and been confirmed to be legitimate.
While some eBay users have expressed frustration at still being single after being repeatedly outbid for attractive partners, others have said it presents a more equal playing field. "It used to be that people got together for dumb things, like, you know, love and stuff like that. But this isn't your grandpa's Craigslist, uh, it's more equal since everybody has access to everybody and if you really want someone, just put in a bid. No need to woo anybody or actually take the time to form any bonds, it's literally the best thing since Tinder. And if it doesn't work out, there's always more cute guys and gals on the site."
The move has been especially well-received among young people, many of whom are already using online dating sites and conducting most of their affairs online. For some, eBay Relationships has quickly become a vital lifeline. Dustin Rolan, 19, Minneapolis, told us "eBay Relationships has really allowed me to finally have the friendships I never had. I bought a friend on eBay last week, and we call each other once a day and chat for a little while; it's pretty sick."
Some eBay users have complained that the bidding windows are too long, which can slow down the process. "I always like the Buy It Now ones," said one user, "because I know exactly what I'm gonna get, but most sellers allow bidding so they can command top dollar. My friend bid on a few chicks last week and he ended up winning two of them, so he's going to be moving to Utah next week since our state doesn't allow polygamy. I do like the Buy, sort of Rent It Now thing, though, because that means you pay a little bit less upfront and only keep paying if the relationship keeps going, so that's bound to save some money."
Amazon declined an interview, but released a statement saying that "As the world's most customer-centric company, we will continue to innovate for our customers to better serve them. At this time, we do not have any comments." However, an internal Amazon source reported anonymously that Amazon is indeed working on a similar platform that will soon be rolled out as "Amazon Match".